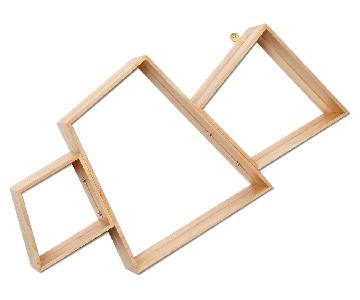 The Future Perfect Peter Marigold Sum Asymmetrical Shelves
This item is no longer available
The Future Perfect Peter Marigold Sum Asymmetrical Shelves
Est. retail: $533
|
66% off
|
Qty: 1
|
---
Product details
Seller's Notes: Beautifully made asymmetrical shelves, retail price of $533: http://www.thefutureperfect.com/storage/shelving/sum-shelves.html "Sum is a wall mounted asymmetrical shelving system made in solid cherry with brass fixings...Each sized piece is different in shape, with three of the four sides featuring a groove that allows for flexible configuration. ...[A] geometric system that is both playful and bespoke. The finish and quality of Sum is to the highest standard and features a refined joinery detail in the corners." Mounting screws and one anchor included. You'll need to buy two more plastic anchors. I enjoyed these and am downsizing, so they are ready for someone else to enjoy.
Brand: The Future Perfect
Condition: Used - Good: Minor blemishes that most people won't notice
Age: 1+ Years Old
Overall Dimensions: Width: 30 inches, Height: 17 inches, Depth: 5 inches
+ Read more...
Sustainability Impact
By purchasing this item, you're contributing to a more sustainable future.
Click to Learn More
Ready to start selling?
Create a listing
Meet our delivery team
Our delivery team does more than move furniture - they're here to support customers and make the process of buying, selling and moving furniture easy. They make what we do possible.
Learn more about our delivery team