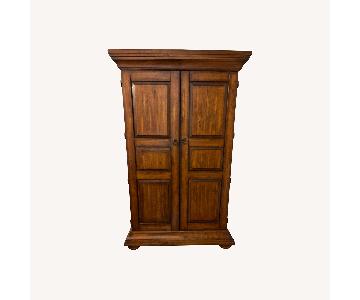 Solid Wood Armoire
This item is no longer available
Solid Wood Armoire
Est. retail: $1,000
|
50% off
|
Qty: 1
|
---
Product details
Seller's Notes: Large solid wood armoire. Sturdy, plenty of storage space. Only damage is left door is slightly ajar because latch inside needs to be replaced, an easy fix. Great for homes with no or little closet space. From a home with a hypoallergenic mini schnauzer, no other pets, non smoking home. Located in Forest Hills NYC.
Brand: Vintage/Antique Finds
Condition: Used - Good: Minor blemishes that most people won't notice
Age: 15+ Years Old
Overall Dimensions: Width: 44 inches, Height: 82 inches, Depth: 21 inches
+ Read more...
Sustainability Impact
By purchasing this item, you're contributing to a more sustainable future.
Click to Learn More
Ready to start selling?
Create a listing
Meet our delivery team
Our delivery team does more than move furniture - they're here to support customers and make the process of buying, selling and moving furniture easy. They make what we do possible.
Learn more about our delivery team