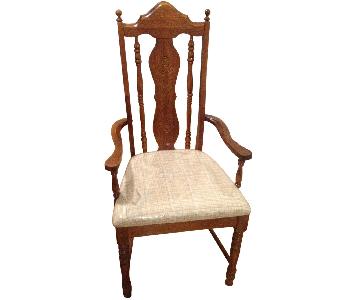 Singer Wooden Dining Room Chairs - Pair
This item is no longer available
Singer Wooden Dining Room Chairs - Pair
Est. retail: $200
|
75% off
|
Set of 1
---
Product details
Seller's Notes: Set of 2 beautifully crafted high quality wooden dining room chairs. These chairs are very pretty and classic. One has arms, and on the other I removed the arms. You can see the small exposed spot of wood where the arms were removed. I took the plastic off the fabric (pictured in close up above), which looks better, but if you want them to really stand out you will want to replace it with something newer. They are mid century; I purchased them 4 yrs ago at an antique store in NYC for $200. Will make lovely addition to your dining room. **I AM NOW LOWERING THE PRICE EVEN MORE - I need to sell this pair to make space -- SUPER DEAL: $50 for both! SUPER DEAL!
Brand: Other
Condition: Used - Satisfactory: Moderate wear and tear, but still has many good years left
Age: 4+ Years Old
Overall Dimensions: Width: 20 inches, Height: 43 inches, Depth: 18 inches
+ Read more...
Sustainability Impact
By purchasing this item, you're contributing to a more sustainable future.
Click to Learn More
Ready to start selling?
Create a listing
Meet our delivery team
Our delivery team does more than move furniture - they're here to support customers and make the process of buying, selling and moving furniture easy. They make what we do possible.
Learn more about our delivery team