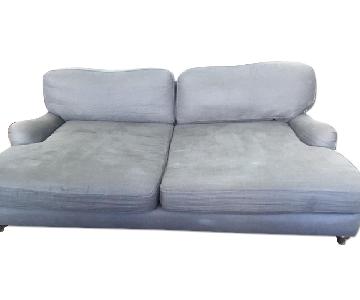 Restoration Hardware English Daybed
This item is no longer available
Restoration Hardware English Daybed
Est. retail: $4,800
|
48% off
|
Qty: 1
|
---
Product details
Seller's Notes: We purchased this english daybed three years ago and have absolutely loved it. It's a great movie watching couch, but also can be made into a bed for guests. It comfortably sleeps two people. The couch is made of a durable linen and has a few lightened areas from stain removal. This isn't noticeable and doesn't detract from the overall appearance of the couch. We're selling it because we're moving and our space doesn't accommodate the depth of the this amazing couch.
Brand: Restoration Hardware
Condition: Used - Satisfactory: Moderate wear and tear, but still has many good years left
Age: 3+ Years Old
Overall Dimensions: Width: 97 inches, Height: 35 inches, Depth: 54 inches
+ Read more...
Sustainability Impact
By purchasing this item, you're contributing to a more sustainable future.
Click to Learn More
Ready to start selling?
Create a listing
Meet our delivery team
Our delivery team does more than move furniture - they're here to support customers and make the process of buying, selling and moving furniture easy. They make what we do possible.
Learn more about our delivery team