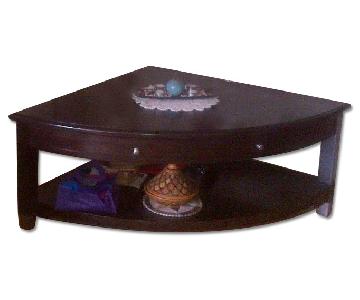 Liberty Lift-Top Pie Shaped Coffee Table
This item is no longer available
Liberty Lift-Top Pie Shaped Coffee Table
Est. retail: $420
|
40% off
|
Qty: 1
|
---
Product details
Seller's Notes: We love it but it is too big for our smaller living room which now has been taken over by our baby's toys! very study very good quality, still expensive in the market, please check. Serves as coffee table and dining table since it is a lift top. Compare to others there is a perk since it is a triangle and allow up to 4 people to dine on it , we did it many times as well as using the bottom for storage or decoration.We have stick some baby protection on it which we can leave on if you have a small child and take it off when they are bigger or we can take it out for you if that does not meet your need. It has a few minor scratches but it gives it more character, I would keep it if I could!
Brand: Liberty Furniture
Condition: Satisfactory: Moderate wear and tear, but still has many good years left
Age: 3+ Years Old
Overall Dimensions: Width: 20 inches, Height: 40 inches, Depth: 40 inches
+ Read more...
Sustainability Impact
By purchasing this item, you're contributing to a more sustainable future.
Click to Learn More
Ready to start selling?
Create a listing
Meet our delivery team
Our delivery team does more than move furniture - they're here to support customers and make the process of buying, selling and moving furniture easy. They make what we do possible.
Learn more about our delivery team