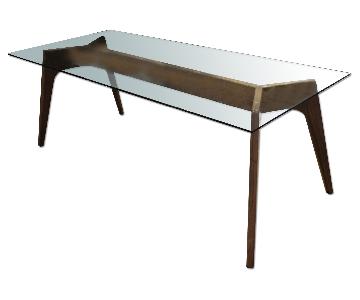 Joybird Hesse Dining Table with Glass Top
This item is no longer available
Joybird Hesse Dining Table with Glass Top
Est. retail: $1,899
|
63% off
|
---
Product details
Seller's Notes: This is a 9-month-old Hesse dining table custom made by Joybird Furniture. The table is made from gorgeous beech wood and stained in a black walnut finish that brings out the wood texture beautifully. It is a large table -- 84" long -- enough to fit three chairs on each side. In fact, it ended up being a bit larger than we wanted, thus the sale. The table comes with a 3/8" tempered glass top that has one very minor (less than 1/8" diameter) chip on the long edge. The table base has two small 1/2" scratches on the top of the left support (see pictures). None of the imperfections are noticeable except upon *very* close inspection.
Brand: Joybird
Condition: Used - Good: Minor blemishes that most people won't notice
Age: 1+ Years Old
Overall Dimensions: Width: 84 inches, Height: 30 inches, Depth: 36 inches
+ Read more...
Sustainability Impact
By purchasing this item, you're contributing to a more sustainable future.
Click to Learn More
Ready to start selling?
Create a listing
Meet our delivery team
Our delivery team does more than move furniture - they're here to support customers and make the process of buying, selling and moving furniture easy. They make what we do possible.
Learn more about our delivery team