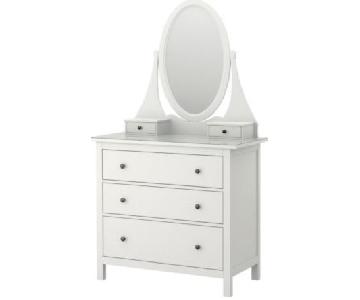 Ikea Hemnes Dresser with Vanity Mirror
This item is no longer available
Ikea Hemnes Dresser with Vanity Mirror
Est. retail: $299
|
41% off
|
---
Product details
Seller's Notes: Great piece! About 5 years old but still in great condition. Ikea Hemnes Mirror Chest. White, 3 large drawers, 2 small make up drawers on detachable top mirror piece. Extra roomy drawers. Smooth running drawers with pull-out stop. Wear & Tear: Last drawer needs a little fixing as it is not aligning with the track. Can definitely be fixed with tools. Measurements: width: 43 1/4 " depth: 20 1/8 " height: 75 1/4 "
Brand: IKEA
Condition: Used - Satisfactory: Moderate wear and tear, but still has many good years left
Age: 5+ Years Old
Overall Dimensions: Width: 43 inches, Height: 75 inches, Depth: 20 inches
+ Read more...
Sustainability Impact
By purchasing this item, you're contributing to a more sustainable future.
Click to Learn More
Ready to start selling?
Create a listing
Meet our delivery team
Our delivery team does more than move furniture - they're here to support customers and make the process of buying, selling and moving furniture easy. They make what we do possible.
Learn more about our delivery team