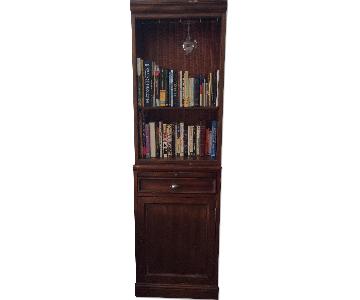 Howard Miller Furniture Wine and Spirits Bar/Bookcases - Pair
This item is no longer available
Howard Miller Furniture Wine and Spirits Bar/Bookcases - Pair
Est. retail: $250
|
72% off
|
Set of 2
---
Product details
Seller's Notes: * the top and bottom can be separated for easy transport Purchased from Fortunoff in 2006.... This would be a great project buy to re finish with some shabby chic chalk paint or even remove the doors to display books or put a nice curtain on a tension rod to cover up what's stored below. The back is NOT damaged and I just decided to cover it with ikea gift wrap to spruce it up. Doors, draws and tray slide out function works and I've always maintained them with WD-40 to keep working smoothly, doors could use a little wood glue on frame.
Brand: Howard Miller
Condition: Used - Age-worn: Has lived a full life and has a "distressed" look with noticeable wear
Age: 9+ Years Old
Overall Dimensions: Width: 22 inches, Height: 74 inches, Depth: 14 inches
+ Read more...
Sustainability Impact
By purchasing this item, you're contributing to a more sustainable future.
Click to Learn More
Ready to start selling?
Create a listing
Meet our delivery team
Our delivery team does more than move furniture - they're here to support customers and make the process of buying, selling and moving furniture easy. They make what we do possible.
Learn more about our delivery team