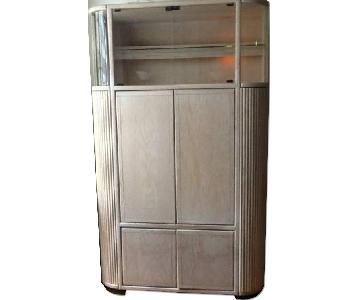 Heritage Drexel Entertainment Cabinet
This item is no longer available
Heritage Drexel Entertainment Cabinet
Est. retail: $900
|
83% off
|
Qty: 1
|
---
Product details
Seller's Notes: French doors with glass enclosed double shelves on top for display of favorite things with back lighting. Middle area retractable French doors on tracks open to shelves that can house mid-size analog tv or flat screen with additional shelf for electronic devices. Secret side panels on each side open up on tracks to multiple shelves for storage of CDs, discs, USBs, Tapes, UHS, paperback books and other smaller items. Bottom double doors open cabinet to store larger items out of sight. American-made quality workmanship by Heritage Drexel (Corinthian Collection) in solid bleached ash/oak woods. Made in USA (North Carolina). This piece is in excellent condition- like new!
Brand: Other
Condition: Good: Minor blemishes that most people won't notice
Age: 7+ Years Old
Overall Dimensions: Width: 60 inches, Height: 72 inches, Depth: 48 inches
+ Read more...
Sustainability Impact
By purchasing this item, you're contributing to a more sustainable future.
Click to Learn More
Ready to start selling?
Create a listing
Meet our delivery team
Our delivery team does more than move furniture - they're here to support customers and make the process of buying, selling and moving furniture easy. They make what we do possible.
Learn more about our delivery team