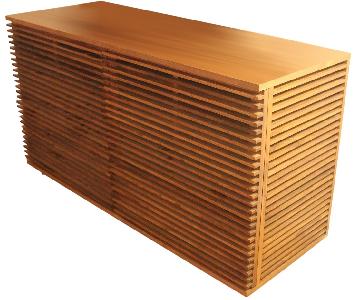 Design Within Reach Line Credenza by Nathan Yong
This item is no longer available
Design Within Reach Line Credenza by Nathan Yong
Est. retail: $3,500
|
67% off
|
Qty: 1
|
---
Product details
Seller's Notes: Design Within Reach - Line Credenza, Small - Designed by Nathan Yong For information: http://www.dwr.com/product/line-credenza.do? Original selling for $2,995 Purchased July 2012 (~2.5 years old) A smart storage option, the Line Small Credenza (2010) has two louvered doors, four cubbies and two drawers. The louvered design also serves a functional purpose, allowing infrared light to reach remote-controlled devices stored inside. Constructed with leveling floor glides for uneven surfaces. Made in Malaysia.
Brand: Design Within Reach
Condition: Good: Minor blemishes that most people won't notice
Age: 2+ Years Old
Overall Dimensions: Width: 54 inches, Height: 29.5 inches, Depth: 19 inches
+ Read more...
Sustainability Impact
By purchasing this item, you're contributing to a more sustainable future.
Click to Learn More
Ready to start selling?
Create a listing
Meet our delivery team
Our delivery team does more than move furniture - they're here to support customers and make the process of buying, selling and moving furniture easy. They make what we do possible.
Learn more about our delivery team