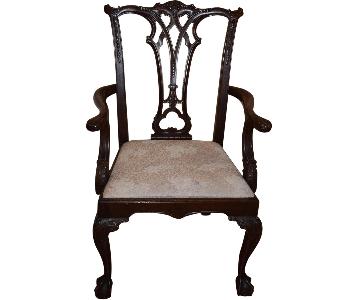 Chippendale Ball & Claw Foot Dining Chairs - Set of 10
This item is no longer available
Chippendale Ball & Claw Foot Dining Chairs - Set of 10
Est. retail: $6,500
|
77% off
|
Set of 1
---
Product details
Seller's Notes: The set consists of 2 arm chairs and 8 side chairs. I'm only selling them because they are too big for my apartment. These chairs are structurally sound and very sturdy, however as they are 25 years old the varnish/finish is cracked and peeling on every chair although in varying degrees and places. Although there is absolutely no wobble in the chair legs and back, the arms on the arm chairs are slightly loose. The country of manufacture and the wood type are both unknown to me but they are heavy and durable. The seat fabric has lost its sheen but aside from some slight staining its still overall decent condition - no rips or shredding. The chairs are quite usable in the state they are in.
Brand: Other
Condition: Satisfactory: Moderate wear and tear, but still has many good years left
Age: 25+ Years Old
Overall Dimensions: Width: 22 inches, Height: 40 inches, Depth: 20 inches
+ Read more...
Sustainability Impact
By purchasing this item, you're contributing to a more sustainable future.
Click to Learn More
Ready to start selling?
Create a listing
Meet our delivery team
Our delivery team does more than move furniture - they're here to support customers and make the process of buying, selling and moving furniture easy. They make what we do possible.
Learn more about our delivery team