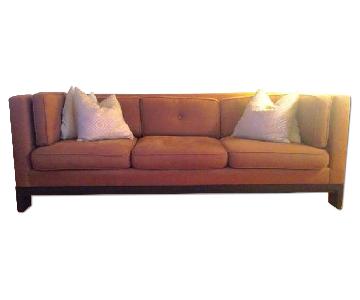 Century Kelly Hopper Sofa + 2 Matching Chairs
This item is no longer available
Century Kelly Hopper Sofa + 2 Matching Chairs
Est. retail: $8,000
|
75% off
|
Set of 3
---
Product details
Seller's Notes: I have 1 sofa and 2 coordinating chairs from Kelly Hopper by Century for sale. This furniture is incredibly study, comfortable, and high end. The fabric is a beautiful medium brown linen. We're selling the furniture because we moved from a huge loft space into a modern condo. Each chair is 35'' tall, 39'' deep and 49'' wide. There is some wear on the piping of two of the sofa cushions and a small ink stain on one of the cushions that can be hidden with a flip. There is wear and tear on one of the sofa cushions on one side and on each of the chair cushions on one side. We even have several yards of extra fabric if you wish to recover a couple of the cushions so they'll be like new.
Brand: Century Furniture
Condition: Satisfactory: Moderate wear and tear, but still has many good years left
Age: 5+ Years Old
Overall Dimensions: Width: 99 inches, Height: 35 inches, Depth: 39 inches
+ Read more...
Sustainability Impact
By purchasing this item, you're contributing to a more sustainable future.
Click to Learn More
Ready to start selling?
Create a listing
Meet our delivery team
Our delivery team does more than move furniture - they're here to support customers and make the process of buying, selling and moving furniture easy. They make what we do possible.
Learn more about our delivery team