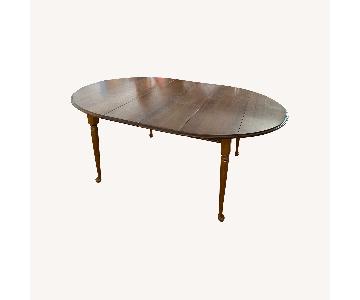 Brown Vintage Oval Shaped Dinning Table With 4 Chairs
This item is no longer available
Brown Vintage Oval Shaped Dinning Table With 4 Chairs
Est. retail: $1,000
|
70% off
|
Qty: 1
|
---
Product details
Seller's Notes: This dinning room set was my grandparents. They used it many years and after they passed away, I used it for 15 more. I hate to see this item go, but it no longer works in our new space. I hope it will bring someone many more years of use and joy. There are two leaves that come with the table to extend it to help sit 6 comfortably.
Brand: Other
Condition: Used - Satisfactory: Moderate wear and tear, but still has many good years left
Wear and tear details: Stains, discoloration, Minor water stains. One spot (see in pics) has varnish removed because of a nail polish remover mishap. Otherwise. table is great. Just wasn't right for our space anymore.
Age: 40+ Years Old
Overall Dimensions: Width: 48 inches, Height: 29 inches, Depth: 68 inches
+ Read more...
Sustainability Impact
By purchasing this item, you're contributing to a more sustainable future.
Click to Learn More
Ready to start selling?
Create a listing
Meet our delivery team
Our delivery team does more than move furniture - they're here to support customers and make the process of buying, selling and moving furniture easy. They make what we do possible.
Learn more about our delivery team