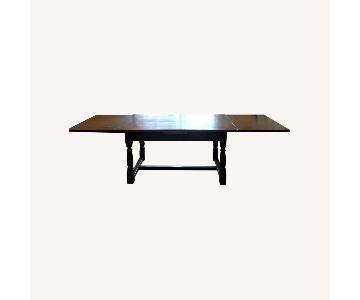 Antique Jacobean Revival Extendable Dining Table
This item is no longer available
Antique Jacobean Revival Extendable Dining Table
---
Product details
Seller's Notes: The table was made by the Kensington Furniture company, which has existed since I believe 1928. Not sure exactly when it was made, but while the company seems to still make furniture today, this table is vintage or antique, made at some point mid-century, possibly earlier. It was acquired by my family at a Cape Cod antiques dealer 30 or 40 years ago, along with the chairs that are visible in some of the photos (also for sale, separate listing). The chairs and table are not a set, but they do match quite well in color, style and dimensions. The last photo shows the maker's mark that is on the interior side panel underneath the table. The table has carvings made by hand on the sides underneath the leaf, and well-turned legs. In my mind, a good balance between detail and simplicity. It extends to such a large size that it is hard to take a decent photo; as you can see in the picture, it goes almost wall to wall in the not very large room where it is currently placed. 113 inches is the full extended length. It will seat 10 people with ample room. Not extended, it is approximately 62 inches long by 53 wide, and stands approximately 31 inches tall, and will seat 6. The thickness of the leaf is approximately 1 inch. It is solid wood, I believe oak. Extremely heavy (I do believe professional moving services are best, it will have to be dismantled to move it). About the condition: Sorry about the light reflections in the photos, the placement of the table makes it impossible to avoid them, and perhaps difficult to tell reflections from flaws. This is why I have provided so many, in the hope that quantity will help. The photos make the wear and tear look a bit worse than they do in life. However, there are most certainly many signs of age: discoloration in the tint on the top (the side extensions are in better condition than the main central panel, for obvious reasons), some staining from use. The horizontal planks or boards the connect the legs at the bottom ansi gave discoloration and darkening from use, as do the legs themselves, in lesser measure. So, certainly in usable condition, but also possible to restain and polish. The central panel of the main leaf has opened up a bit to a crack that does not go through - that is something that happens with changes of humidity and temperature over time. Some similar situations in the extension panels.
Brand: Kensington Furniture
Condition: Used - Satisfactory: Moderate wear and tear, but still has many good years left
Wear and tear details: Stains, discoloration, top center leaf has opened up a bit, so there is a crack (not through, just superficial opening), similar on the extension leaves
Overall Dimensions: Width: 62 inches, Height: 31 inches, Depth: 35 inches
+ Read more...
Sustainability Impact
By purchasing this item, you're contributing to a more sustainable future.
Click to Learn More
Ready to start selling?
Create a listing
Meet our delivery team
Our delivery team does more than move furniture - they're here to support customers and make the process of buying, selling and moving furniture easy. They make what we do possible.
Learn more about our delivery team