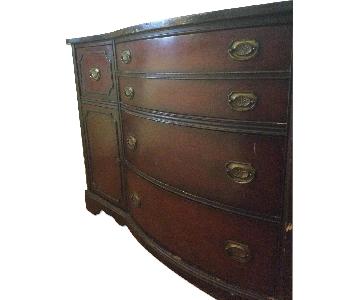 Antique Dresser/Dining Chest of Drawers
This item is no longer available
Antique Dresser/Dining Chest of Drawers
Est. retail: $575
|
77% off
|
---
Product details
Seller's Notes: * Purchase as a nice project to restore or paint with a chabby chic chalk paint* I purchased it from an Antique Dealer somewhere in Lower Manhattan It is very sturdy: 3 drawers in the middle 2 smaller on the side that are ideal for socks and below the smaller drawers is a compartment with one shelf in the middle. The top has noticeable rings from a perfume oil and water marks from beverages The right door is missing the hardware but I may have it somewhere to include with the sale.
Brand: Other
Condition: Age-worn: Has lived a full life and has a "distressed" look with noticeable wear
Age: 65+ Years Old
Overall Dimensions: Width: 59 inches, Height: 35 inches, Depth: 18 inches
+ Read more...
Sustainability Impact
By purchasing this item, you're contributing to a more sustainable future.
Click to Learn More
Ready to start selling?
Create a listing
Meet our delivery team
Our delivery team does more than move furniture - they're here to support customers and make the process of buying, selling and moving furniture easy. They make what we do possible.
Learn more about our delivery team