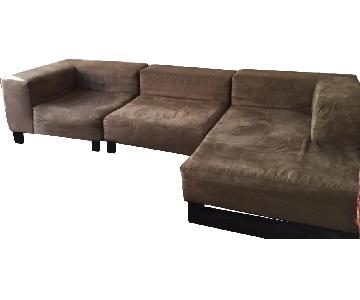 West Elm 3-Piece Chaise Sectional Sofa
This item is no longer available
West Elm 3-Piece Chaise Sectional Sofa
Est. retail: $1,100
|
66% off
|
---
Product details
Seller's Notes: West Elm 3-piece sectional sofa for sale. Mocha sueded upholstery. Total width of three pieces together 104" and chaise extends out 57" height of back 23.5". Excellent condition, has been used and treated with care. Bought approximately 6 years ago but used in a house where we only lived half time so not in constant use.
Brand: West Elm
Condition: Used - Good: Minor blemishes that most people won't notice
Age: 6+ Years Old
Overall Dimensions: Width: 104 inches, Height: 23.5 inches, Depth: 57 inches
+ Read more...
Sustainability Impact
By purchasing this item, you're contributing to a more sustainable future.
Click to Learn More
Ready to start selling?
Create a listing
Meet our delivery team
Our delivery team does more than move furniture - they're here to support customers and make the process of buying, selling and moving furniture easy. They make what we do possible.
Learn more about our delivery team