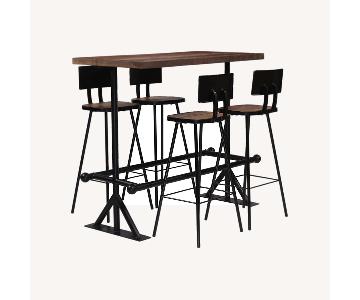 Wayfair Height Dining Set
This item is no longer available
Wayfair Height Dining Set
Est. retail: $879
|
87% off
|
Set of 5
---
Product details
Seller's Notes: This wooden bar set in a retro look oozes industrial style and will make a striking addition to your decor. The bar table and chairs are made of solid reclaimed wood that has been sourced from joists, floors, and support beams from old buildings being demolished, and can consist of different types of wood like pine, teak, beech, oak, cedar, mango wood, acacia, etc. This means the reclaimed wood retains the characteristics of these different types of wood. Reclaimed wood is already aged, weathered, and dried, so it doesn't shrink or bend. The beautiful wood grains make every piece of furniture unique and slightly different from the next. Signs of wear and visible grain structure also give the set its own history and a unique look. Every step of the process is carried out with the greatest care, be it polishing, painting, or lacquering. The steel frame ensures the set's sturdiness and stability but contributes to its industrial style as well. The footrests add to the seating comfort. Assembly is easy. Delivery includes 1 bar table and 6 bar chairs. Important note: Colours vary from piece to piece, making each of our items unique; the delivery is random.
Brand: Wayfair
Collection: By Williston Forge
Manufacturer Link: https://www.wayfair.com/furniture/pdp/williston-forge-yox...
Condition: Used - Good: Minor blemishes that most people won't notice
Wear and tear details: NA
Age: 1+ Years Old
Overall Dimensions: Width: 27.6 inches, Height: 42.1 inches, Depth: 59.1 inches
+ Read more...
Sustainability Impact
By purchasing this item, you're contributing to a more sustainable future.
Click to Learn More
Ready to start selling?
Create a listing
Meet our delivery team
Our delivery team does more than move furniture - they're here to support customers and make the process of buying, selling and moving furniture easy. They make what we do possible.
Learn more about our delivery team