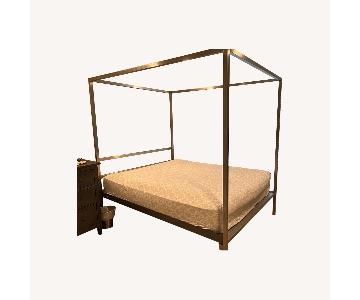 Room & Board Stainless Steel Canopy Queen Bed
This item is no longer available
Room & Board Stainless Steel Canopy Queen Bed
Est. retail: $1,799
|
56% off
|
Qty: 1
|
---
Product details
Seller's Notes: This Stainless Steel Bed has been wonderful from Room and Board! It's impossible to damage it as the steel is so sturdy and scratches are not visible due to the brushed metal finish! It's great in any design style as it is so clean and simple!
Brand: Room & Board
Collection: Portica Canopy
Manufacturer Link: Roomandboard.com
Condition: Used - Good: Minor blemishes that most people won't notice
Wear and tear details: NA
Age: 7+ Years Old
Overall Dimensions: Width: 64 inches, Height: 80 inches, Depth: 84 inches
+ Read more...
Sustainability Impact
By purchasing this item, you're contributing to a more sustainable future.
Click to Learn More
Ready to start selling?
Create a listing
Meet our delivery team
Our delivery team does more than move furniture - they're here to support customers and make the process of buying, selling and moving furniture easy. They make what we do possible.
Learn more about our delivery team