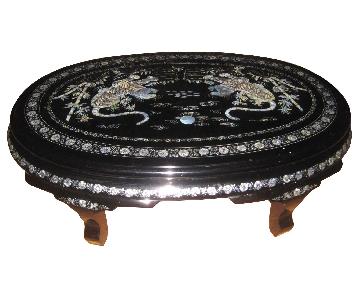 Oriental Mother of Pearl Iridescent Inlay Shell Applique Coffee Table
This item is no longer available
Oriental Mother of Pearl Iridescent Inlay Shell Applique Coffee Table
Est. retail: $900
|
72% off
|
Qty: 1
|
---
Product details
Seller's Notes: The Oriental oval table sits on removable carved wooden legs. It is more shinier in person and was handmade in a glossy black lacquer woodworking combined with the exquisite art of also applying time consuming inlaid gleaming iridescent beautiful Mother of Pearl shell appliqué inlay placement. The two ferocious Exotic Tigers symbolize a picture image of powerful energy, protection and nature's beauty. Given its 30 yr. age the coffee table is still in very good usuable condition, but there are some small nicks and lite surface scratches that can be professionally touched up, camouflaged or hidden with an added purchased glass top to preserve better.
Brand: Other
Condition: Used - Satisfactory: Moderate wear and tear, but still has many good years left
Age: 30+ Years Old
Overall Dimensions: Width: 52 inches, Height: 15 inches, Depth: 32 inches
+ Read more...
Sustainability Impact
By purchasing this item, you're contributing to a more sustainable future.
Click to Learn More
Ready to start selling?
Create a listing
Meet our delivery team
Our delivery team does more than move furniture - they're here to support customers and make the process of buying, selling and moving furniture easy. They make what we do possible.
Learn more about our delivery team