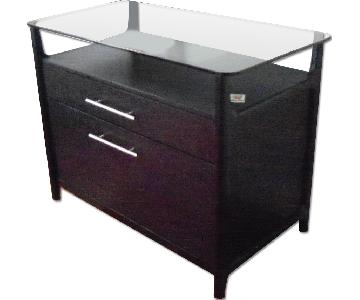 Modern Home Furnishings Chest/Filing Cabinet
This item is no longer available
Modern Home Furnishings Chest/Filing Cabinet
Est. retail: $650
|
73% off
|
Qty: 1
|
---
Product details
Seller's Notes: Modern cabinet that can be a chest or has hardware to be a filing cabinet. Smaller top drawer and deep bottom drawer. Glass top. Black wood. Excellent Condition - barely used.
Brand: Other
Condition: Good: Minor blemishes that most people won't notice
Age: 2+ Years Old
Overall Dimensions: Width: 40 inches, Height: 30 inches, Depth: 22 inches
+ Read more...
Sustainability Impact
By purchasing this item, you're contributing to a more sustainable future.
Click to Learn More
Ready to start selling?
Create a listing
Meet our delivery team
Our delivery team does more than move furniture - they're here to support customers and make the process of buying, selling and moving furniture easy. They make what we do possible.
Learn more about our delivery team