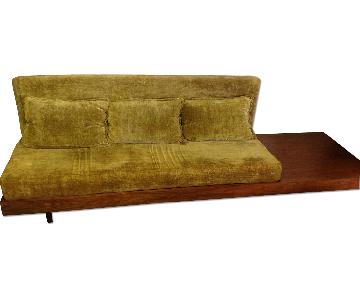 Mid Century Modern Sofa
This item is no longer available
---
Product details
Seller's Notes: This Mid-century sofa with a joint side table is a dream come true. Why? One and done! The wood frame is gorgeous, especially pushed against the olive green fabric. It's designed to go against a wall so you can use cushion as the seat back. Or, remove the back cushion and use this piece as a bench. With recessed legs to produce a floating effect, this two-in-one sofa has plenty of magic tricks up it's sleeve!
Brand: Other
Condition: Good: Minor blemishes that most people won't notice
Age: 6+ Years Old
Overall Dimensions: Width: 104 inches, Height: 33 inches, Depth: 32 inches
+ Read more...
Sustainability Impact
By purchasing this item, you're contributing to a more sustainable future.
Click to Learn More
Ready to start selling?
Create a listing
Meet our delivery team
Our delivery team does more than move furniture - they're here to support customers and make the process of buying, selling and moving furniture easy. They make what we do possible.
Learn more about our delivery team