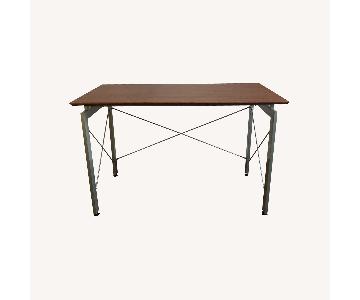 Mahogany Finish Alvin Desk
This item is no longer available
Mahogany Finish Alvin Desk
Est. retail: $99
|
49% off
|
---
Product details
Seller's Notes: A sleek powder coated X-frame combines with a rich mahogany finish top to give this handsome desk a bold contemporary appearance with a touch of classic style.
Brand: Macy's
Manufacturer Link: https://www.macys.com/shop/product/rta-products-alvin-des...
Condition: Used - Satisfactory: Moderate wear and tear, but still has many good years left
Wear and tear details: Scratches
Age: 6+ Years Old
Overall Dimensions: Width: 47 inches, Height: 30 inches, Depth: 24 inches
+ Read more...
Sustainability Impact
By purchasing this item, you're contributing to a more sustainable future.
Click to Learn More
Ready to start selling?
Create a listing
Meet our delivery team
Our delivery team does more than move furniture - they're here to support customers and make the process of buying, selling and moving furniture easy. They make what we do possible.
Learn more about our delivery team