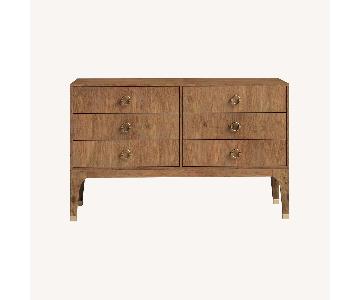 Joss & Main 6 Drawer Dresser
This item is no longer available
Joss & Main 6 Drawer Dresser
Est. retail: $880
|
48% off
|
Qty: 2
|
---
Product details
Seller's Notes: I've had this dresser for almost 3 years. The color is off from the original product photo but still a good neutral to have in your space. The only reason I'm selling it now is because it won't fit into my new apartment.
Brand: Safavieh
Condition: Used - Good: Minor blemishes that most people won't notice
Age: 3+ Years Old
Overall Dimensions: Width: 56 inches, Height: 35 inches, Depth: 18 inches
+ Read more...
Sustainability Impact
By purchasing this item, you're contributing to a more sustainable future.
Click to Learn More
Ready to start selling?
Create a listing
Meet our delivery team
Our delivery team does more than move furniture - they're here to support customers and make the process of buying, selling and moving furniture easy. They make what we do possible.
Learn more about our delivery team