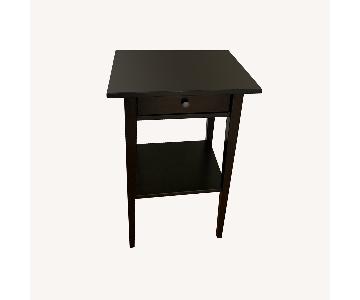 IKEA HEMNES Black-Brown Nightstand
This item is no longer available
IKEA HEMNES Black-Brown Nightstand
Est. retail: $130
|
62% off
|
Qty: 1
|
---
Product details
Seller's Notes: Chic nighstand in black-brown with many good years left! There is a functional drawer and minor blemishes, as can be seen in the photos. Would love to keep this item for my move but unfortunately cannot and would love to find the perfect next home for it. Open to offers on this item!
Brand: IKEA
Collection: Hemnes
Manufacturer Link: https://www.ikea.com/us/en/p/hemnes-nightstand-black-brow...
Condition: Used - Satisfactory: Moderate wear and tear, but still has many good years left
Wear and tear details: Scratches
Age: 5+ Years Old
Overall Dimensions: Width: 18.13 inches, Height: 27.5 inches, Depth: 13.75 inches
+ Read more...
Sustainability Impact
By purchasing this item, you're contributing to a more sustainable future.
Click to Learn More
Ready to start selling?
Create a listing
Meet our delivery team
Our delivery team does more than move furniture - they're here to support customers and make the process of buying, selling and moving furniture easy. They make what we do possible.
Learn more about our delivery team