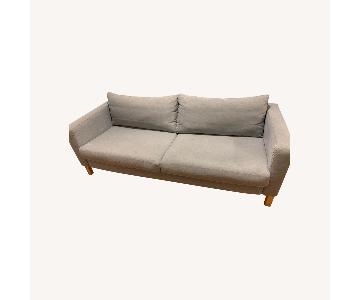 IKEA Blue-Gray Sofa
This item is no longer available
IKEA Blue-Gray Sofa
Est. retail: $500
|
80% off
|
---
Product details
Seller's Notes: This is a comfortable but somewhat worn couch. I've had it for about 5 1/2 years, so there's a tiny bit of sagging and a few soy sauce stains. I find that flipping the cushions often really helps keep it at it's most cozy. It can fit three people, I've often settled in for a nice nap on it (I'm 5 ft 3 in, and it's the perfect napping size for me), and best of all it's relatively deep, so it's great for sitting back and tucking my feet under.
Brand: IKEA
Condition: Used - Satisfactory: Moderate wear and tear, but still has many good years left
Wear and tear details: Stains, discoloration
Age: 6+ Years Old
Overall Dimensions: Width: 81 inches, Height: 25 inches, Depth: 30 inches
+ Read more...
Sustainability Impact
By purchasing this item, you're contributing to a more sustainable future.
Click to Learn More
Ready to start selling?
Create a listing
Meet our delivery team
Our delivery team does more than move furniture - they're here to support customers and make the process of buying, selling and moving furniture easy. They make what we do possible.
Learn more about our delivery team