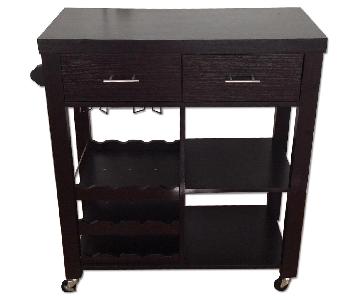 Espresso Mobile Kitchen Bar Cart
This item is no longer available
Espresso Mobile Kitchen Bar Cart
Est. retail: $200
|
50% off
|
---
Product details
Seller's Notes: Brand: N/A Style: Mobile kitchen bar cart Color: Espresso Hardware: Chrome Description: Contemporary-style mobile kitchen bar cart. Two (2) top drawers and two (2) shelves on the right side of cart. Room for 6-8 hanging wine glasses and holds up to 12 bottles of wine with the provided shelving. Actual bar car is 31.5" across but the handle adds another 2". Cart is on wheels which makes for convenient movement. Hate that we have to sell this piece as it's a great piece but new place does not have room for it.
Brand: Other
Condition: Good: Minor blemishes that most people won't notice
Age: 2+ Years Old
Overall Dimensions: Width: 33 inches, Height: 36 inches, Depth: 15.5 inches
+ Read more...
Sustainability Impact
By purchasing this item, you're contributing to a more sustainable future.
Click to Learn More
Ready to start selling?
Create a listing
Meet our delivery team
Our delivery team does more than move furniture - they're here to support customers and make the process of buying, selling and moving furniture easy. They make what we do possible.
Learn more about our delivery team