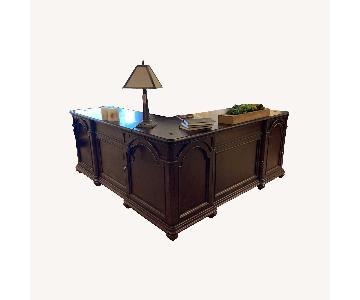 Clinton Hill Classic Cherry L Shape Desk
This item is no longer available
Clinton Hill Classic Cherry L Shape Desk
Est. retail: $3,200
|
57% off
|
Qty: 1
|
---
Product details
Seller's Notes: Introducing the Clinton Hill Classic Cherry L Shape Desk, a sophisticated and functional workstation that combines timeless design with practicality. Crafted with attention to detail and quality materials, this desk offers ample space for productivity while adding a touch of elegance to your home office or workspace. Classic Cherry Finish: The Clinton Hill L Shape Desk features a rich and lustrous classic cherry finish. This warm and inviting color adds a sense of traditional charm to the desk, creating a timeless aesthetic that complements a variety of decor styles. The cherry finish enhances the natural beauty of the wood, providing an elegant backdrop for your workspace. L Shape Design: The desk is designed in an L shape, offering versatility and ample workspace. The configuration allows you to optimize the available area and provides separate sections for different tasks. You can use one side for computer work or writing, while the other side can be designated for paperwork, reference materials, or additional equipment. Spacious Work Surface: With its generous dimensions, the Clinton Hill L Shape Desk provides a spacious work surface to accommodate multiple monitors, a laptop, and other essentials. This allows you to spread out and organize your workspace efficiently, ensuring everything you need is within reach. The ample space also provides room for personalization with decor or desk accessories.
Brand: Other
Condition: Floor model: Has been used as a display model in a retail store
Wear and tear details: New-Very Good: Chip on a corner.
Overall Dimensions: Width: 74 inches, Height: 30 inches, Depth: 69 inches
+ Read more...
Sustainability Impact
By purchasing this item, you're contributing to a more sustainable future.
Click to Learn More
Ready to start selling?
Create a listing
Meet our delivery team
Our delivery team does more than move furniture - they're here to support customers and make the process of buying, selling and moving furniture easy. They make what we do possible.
Learn more about our delivery team