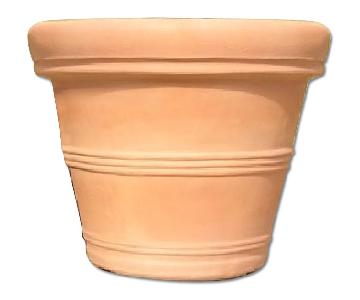 Chelsea Garden Center 2 Medium and 2 Large Terra Cotta Resin Italian Round Planters with Line Reliefs
This item is no longer available
Chelsea Garden Center 2 Medium and 2 Large Terra Cotta Resin Italian Round Planters with Line Reliefs
Est. retail: $900
|
72% off
|
Set of 4
---
Product details
Seller's Notes: Italian Resin Planters add a decorative element to a rolled rim planter with classical line reliefs. Italian designed molds cast from actual Italian terracotta planters. The most realistic terracotta finishes made of modern resins. Its quality commercial grade resin construction and rotation molded polyethylene is built to withstand harsh winters and unrelenting UV rays. This planter is 100% recyclable. Only 5 lbs each when empty. Double-walled for optimal insulation. Full depth for more soil capacity and root space. Virtually unbreakable. For indoor and outdoor use (must use a saucer indoors; saucer not included). Plants not included.
Brand: Chelsea Garden Center
Condition: Used - Good: Minor blemishes that most people won't notice
Age: 10+ Years Old
Overall Dimensions: Width: 26 inches, Height: 21 inches, Depth: 3 inches
+ Read more...
Sustainability Impact
By purchasing this item, you're contributing to a more sustainable future.
Click to Learn More
Ready to start selling?
Create a listing
Meet our delivery team
Our delivery team does more than move furniture - they're here to support customers and make the process of buying, selling and moving furniture easy. They make what we do possible.
Learn more about our delivery team