We're so excited to introduce this month's designer-in-residence, Tina Ramchandani! Tina's a known expert when it comes to designing interior spaces that emanate a feeling of peace and quiet – something that's in our list of favorite design styles (you know, to temporarily get away from the hustle and bustle of this city!).
Her minimalistic and well curated style has been largely influenced by early exposures to different cultural experiences through travel and her insatiable appreciation for art, ultimately feeding her love for layering textures, and creating warm, sophisticated environments. Her design process has naturally refined itself through her experiences in working for esteemed design firms as well as owning her own firm, Tina Ramchandani Creative. Let's see what else Tina has to share!
As a sophomore in college, Ramchandani was unsure about her future – until she attended a cousin's wedding in India – that is. "The hotel where we stayed was extremely sophisticated in design which instantly alerted me to the appreciation of interiors in India. When we got to the wedding, I realized that it wasn't just the style of the event, but the space: the light, the ambiance, and the views. I didn't know at the time how to connect that feeling to a career, but I did some research and landed on interior design.", says Tina.
Inspired by a summer program in Chicago, Ramchandani then transferred schools to pursue her passion in design. She continued to learn at a woman-owned commercial design firm before finding her way to residential design and striking out on her own five years later.
Ramchandani has since focused on creating an experience with her interiors. "I design spaces in their entirety," she explains. "I'll either do whole houses or apartments or multiple rooms within a house. I focus on transforming the room completely, so you walk into the space and you know exactly what the space is."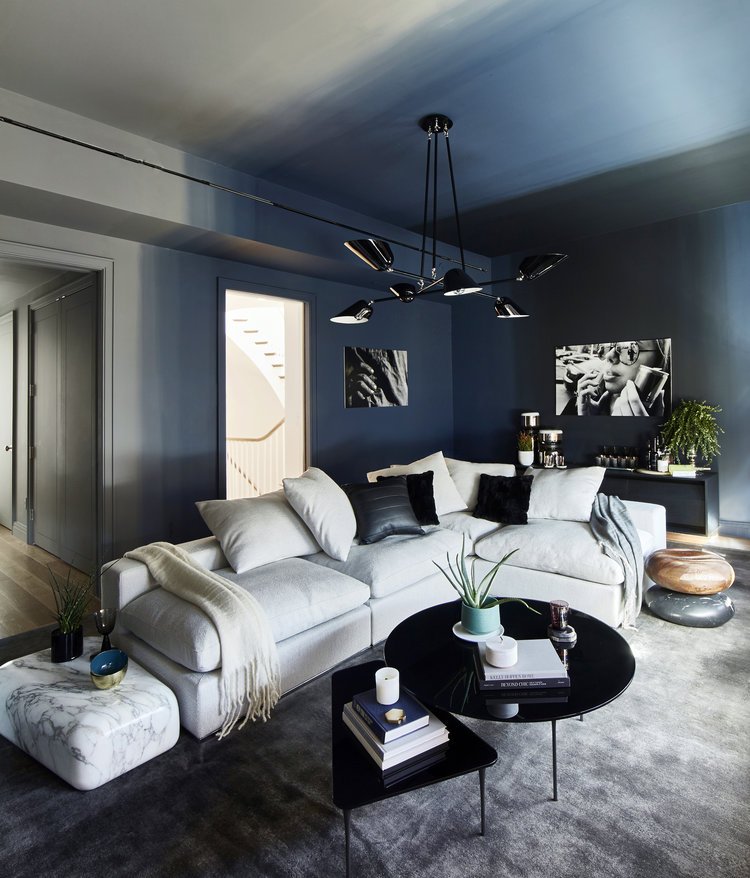 Thoroughness is the name of the game when Ramchandani approaches her projects, and to create that holistic experience, she takes her clients through multiple rounds of interviews and presentations. "I ask my clients about how they live, their daily routine, their evenings and weekends. I'm not trying to pry, just to understand what their life is like day-to-day. We have a visual process too, where a client will show me examples of their taste so I can see what they tend to gravitate toward," she describes.
Part of that process is connecting her vision to their own. "Words mean different things to different people, so I want to hone in on what modern means to you, versus to me. I have a very specific taste - trending toward a modern look - but at the end of the day I'm here to design for a client. The client discovery process is personal, detailed and never ending, but understanding the person is imperative to creating a synergistic living space." For example, she'll show them pictures of different chair legs to make sure she's on the same page. These small details might not come up in a typical interview, but through an ongoing process of asking questions and garnering feedback, Ramchandani can align perfectly on what pieces match a client's taste.
Tina Ramchandani's Decor Collection on AptDeco
What was her inspiration for her curated collection on AptDeco? Statement pieces that will create a modern and sophisticated style in an effortless way. Tina put together a refined selection of unique furniture pieces that will help create amazing living spaces regardless of the space or budget. "I enjoy playing with textures rather than patterns - some patterns are timeless, but many go out of fashion rather quickly. Instead, I play with neutrals and textures to keep things classic and serene," says Ramchandani. "I think you can find something beautiful anywhere, no matter what your budget is."
A final advice on decorating your space? The same process that Ramchandani takes her clients through can be used by anyone working to decorate an apartment, she says. "If you're designing, always start with a mood board and floor plan. It helps give you direction. There are so many options out there, but if you start with a vision, then you can narrow it down in a cohesive way. Nothing has to be set in stone!"
What's next for Ramchandani? She'll continue to work on a few charity design projects this year, another passion of hers. Ultimately, she says, "I love what I do and I just want to keep doing it!"
Space designed in collaboration with Winter McDermott Design
---
Article by Emily Heaslip
Photos via
Tina Ramchandani
---