The West Village holds a rich history, top-notch shopping, and a classic Bohemian feel like no other neighborhood. With mouth-watering eats, tree-lined streets, and trendy residents, this unique area symbolizes the heart of New York.
The borders that surround it are West 14th Street to Houston Street from North to South, and Avenue of the Americas to the Hudson River from East to West.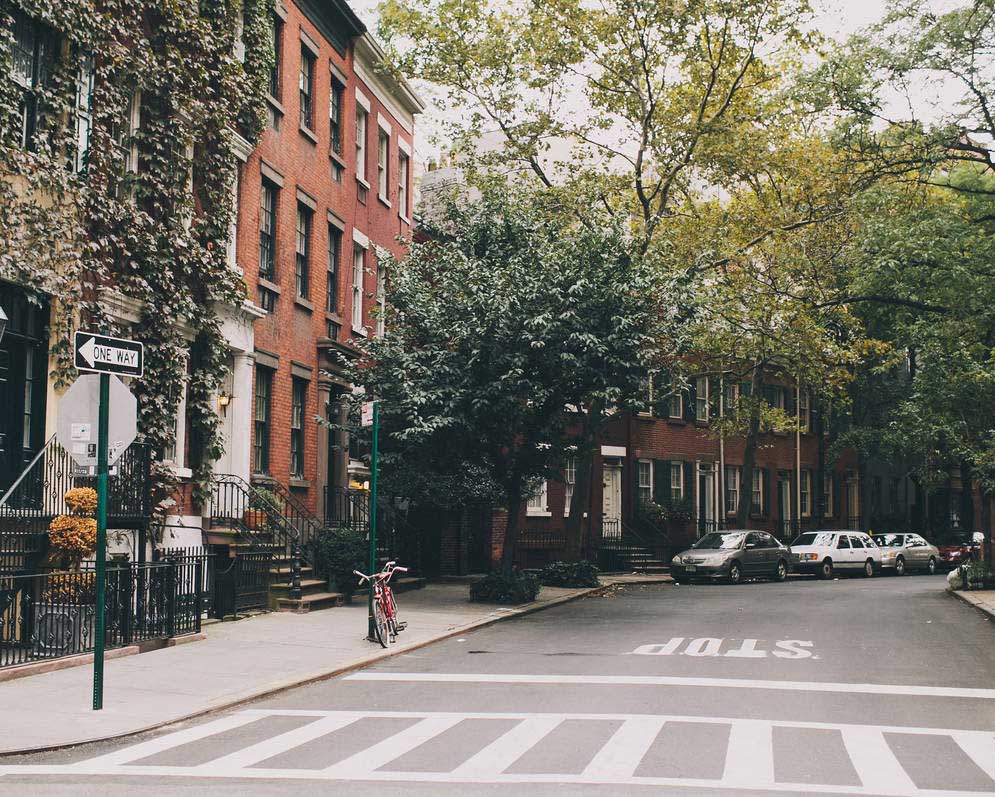 Accessibility
Subway travel to and from the West Village is very convenient. For vertical travel, the (1, 2, 3, A, C, E, B, D, F, M) trains provide transportation towards its eastern border. However, for horizontal travel, the (A, C, E) trains, as well, cut through the northern portion of the West Village. To compensate for the limited travel within the neighborhood, the (M20) bus provides vertical travel on the western area, and the (M8 & M21) buses provide horizontal travel on the southern edge.
Lifestyle
While it may initially seem like a peaceful, hidden gem of a neighborhood, the West Village is full of residents wearing trendy clothing and professionals enjoying a latte while on their commute to work. Mostly likely, you'll find neighborhood residents casually walking their four-footed friend through the rustic, vintage storefronts or casually sitting on the footsteps of their brownstone units.
Restaurants & Bars
The food scene is quite energetic in this neighborhood. Whether you are a white glove diner or a brunch enthusiast, the West Village has it all. For a fantastic burger at the best gastropub in New York, the Spotted Pig comes highly recommended by our friends at Triplemint; many of their agents promise that the chargrilled burger is the best burgers in NY. For more luxurious items, Annisa's Foie Gras Soup Dumplings brings an elegant twist to a Chinese staple. For those sushi enthusiasts, Chez Sardine's Hamachi-chicharron Sushi is sure to please your palate.
Cost of Living
While West Village may look quaint, beautiful, and expensive…it is. Well above the New York average rent of $5,212, it proudly places itself above the competition of the most expensive neighborhood with $17,500/mo. What the $17,500 does get you is a quiet neighborhood filled with luxury apartments and some of the best restaurants. Enjoy a latte, show off your dog, and eat some overly priced food at one of New York's most luxurious neighborhood.
Decorating your Apartment
The West Village is filled with fashionable aesthetics and a truly sophisticated vibe. Inspired by this particular flavor, we suggest making a statement with an elegant ensemble – start by selecting a piece of furniture, like your sofa, and go velvet! Then punctuate your space with hints of black to add some character to your space.
If you're a daring mood, you can even add bold colors to the mix – just make sure to select different colors to avoid creating an obvious theme.
This post is contributed from our friends at Triplemint. Triplemint is a full-service real-estate brokerage that combines technology, teamwork and personalized service. Its advanced, easy-to-use platform pools listings and updates continuously, allowing its users to see everything NYC brokers see. Maybe more.
Did you like this blog post? Share it with a friend who might like it too:
Send email!