Tribeca – the Triangle Below Canal Street – is a mecca of high-end shops in a neighborhood dominated by beautiful converted industrial buildings from New York's past. With a rich industrial history and a wonderful family atmosphere, Tribeca caters to almost everybody.
Bordered to the east and west by Broadway and West St and to the north and south by Canal St and Chambers St, Tribeca is  also home to several celebrities and design enthusiasts.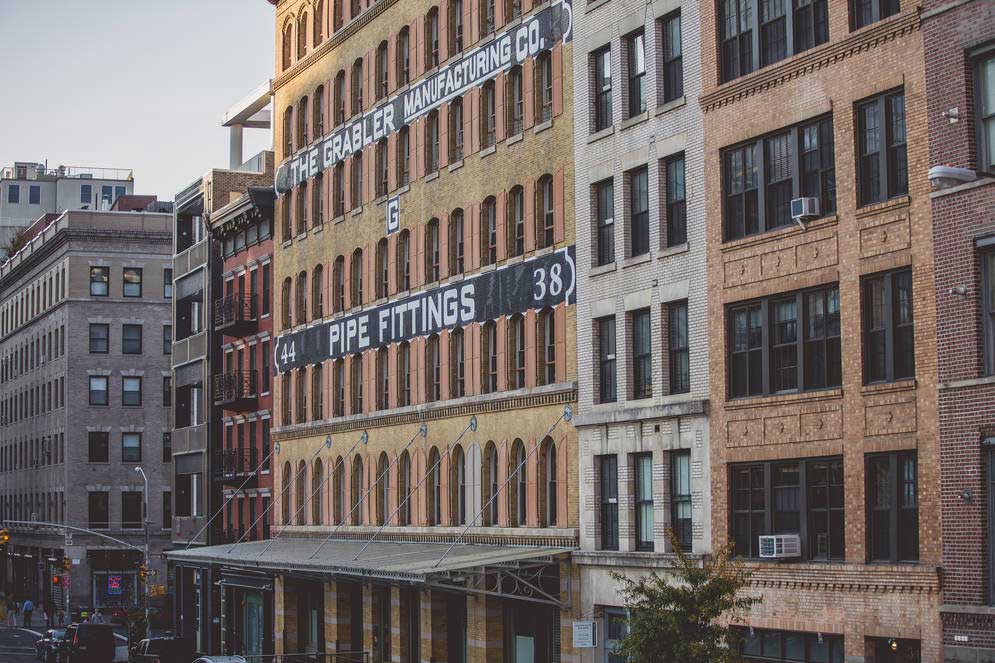 Accessibility
Traveling to Tribeca is fairly simple: most subway lines stop within its boundaries. In terms of subways, there are plenty of options to travel vertically. The (1, 2, 3, 6, A, C, E, N, Q, & R) subway lines provide easy access going up and down. However, traveling up the western border of Tribeca is limited to the (M20) bus, and horizontal travel is serviced by the (M9 & M22) buses.
Lifestyle
Tribeca is a very safe and comfortable neighborhood that embodies a sense of community. Originally a central transfer point for textiles and dry goods, Tribeca has now become a luxury neighborhood. However, aside from the rich and famous, you will also find average New Yorkers in Tribeca – it was a popular neighborhood long before it became popular with wealthier Manhattanites. Tribeca's cobblestone streets are lined with galleries and fine dining restaurants and play host to the famous Tribeca Film Festival. Washington Market Park is popular for picnics in the city and is perfect for both family and adult gatherings alike.
Restaurant and Bars
Ranging from steakhouses to sushi restaurants, there is no shortage of restaurants in Tribeca. Our personal favorite is Bouley, which serves excellent French cuisine. We recommend ordering the butter-poached lobster and the decadent chocolate frivolous. For broader "European" cuisine, Bâtard's milk-braised pork shoulder will put you right at home. Sushi lovers will love Ichimura at Brushstroke, which serves delicious little dishes that could double as works of art.
The bar scene is lively, although a little pricey in some locations. Our favorite is the Brandy Library which offers the rarest cognacs and our personal favorite, a glass of 21-year-old Glengoyne. For great cocktails, Weather Up will satisfy any palate with suspendered bartenders making any combination you desire. For traditional beers, Anotheroom provides a quiet atmosphere to enjoy your brew in peace.
Cost of Living
To put it bluntly, Tribeca is expensive. It has overtaken the Upper East Side as the city's wealthiest neighborhood, and the sales and rental market reflect it. As of 2016, the most expensive apartments in Manhattan for non-doorman units all reside in Tribeca. The average monthly rent of Tribeca is $5,500 which is over a thousand more than Manhattan's rental average.
Decorating Your Apartment
Tribeca evokes a stylish industrial vibe like no other. That being said, we suggest embracing its exciting past and decorate your space with a mix of the old and the new. Try adding modern materials along with some restored accent pieces made of wood, metal or glass.
Lastly, upgrade your game by bringing the outdoors in. Spice things up with some light and transparent elements that will help you create a captivating living space.
This post is contributed from our friends at TripleMint. TripleMint is a full-service real-estate brokerage that combines technology, teamwork and personalized service. Its advanced, easy-to-use platform pools listings and updates continuously, allowing its users to see everything NYC brokers see. Maybe more.
Did you like this blog post? Share it with a friend who might like it too:
Send email!