The 2015 Oscars are here and we're excited about it! Since the art of movies often reaches into our homes, we thought it would be fun to show various bedrooms and the movies that could easily feature them. Here are four of the 2015 Oscar nominees for best picture and the rooms they inspire.
Birdman
From Riggan's apartment to the streets of NYC, everything about Birdman screams gritty and raw. Just take a look at Riggan's apartment. With its industrial brick walls and disheveled bachelor pad thrift finds, it's a throwback to what living in NYC meant to starving artists and actors. Then there's the less-than-glamorous Broadway stage, where Riggan tries to make a comeback. Everything about this movie is slightly dark.
To portray this space, we found this dark, moody bedroom. The raw space with brick walls shows the darker side of life, while still being iconically NY. The bedroom is curated but not so much that it looks purposely curated. Masculine overtones are everywhere, making it the perfect bachelor pad. The lone piece of dark art is symbolic of everything that goes on in Birdman.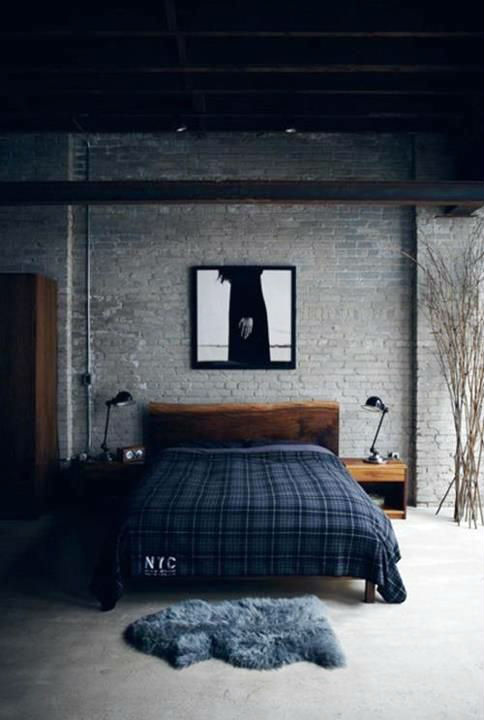 Digs Digs
Boyhood
This coming of age story shows Mason's evolution from kid to young grownup. As he struggles with everyday life and divorced parents, Mason develops his own interests and passions. What's unique about this movie is that it was filmed over a 12-year time span using the same actors and actresses.
In reality, this story is hardly unusual. Since Mason is the main character, we felt that the room that would best fit this film is his bedroom. With constant moving, there was never really time for Mason to allow his bedroom to evolve. It would have been a sophisticated room filled with his love of photography. If he did have one place to stay throughout his teenage years, this is what we imagine it would have looked like.
Cush and Nooks
The Grand Budapest Hotel
In this quirky comedy, we are taken back nearly a century ago to the glitz and glamour of old world Europe. The plot revolves around the Grand Budapest Hotel itself and we get to see pre-war Art Deco styling.
Bedrooms are the main reason hotels exist. We found one that brought back the style of the 1930s. With it's stunning chandelier and tufted headboard, we could easily see this bedroom in 1930s Europe. Add this little seating area by the fireplace and you have glamour and high design rolled into one.
Giesen Design
The Theory of Everything
This is another movie that jumps back in time. Theory of everything explores the marriage and love between Stephen Hawking and his first wife, Jane Wilde. Most of the story takes place from 1963 through the mid 1980s. During this time, Stephen went from dorm to first home to family home.
In the film, we caught glimpses of the Hawking family home. In it, late 1960s modern was mixed with traditional, a style that we see resurrected today. The bedroom below is one we could easily see in the Hawking home during the early days of marriage. In it, 1960s modern touches mixed with the oranges of the 1970s.
BHG