Your apartment hunt in New York should be relatively straightforward, right? Just decide on your budget, hire a broker or scan sites like Craigslist, and do some research on neighborhoods….Think again. There's a lot more than meets the eye when hunting for the right space for your new home in NYC.
Just figuring out what the different titles of floor plans listed for rent can be daunting. For example: do you know the difference between a convertible, a studio, and a convertible studio? And what on earth is a floor-through? In this post, we're giving your apartment hunt a little boost by breaking down the most common types of apartments in New York; what you get when you shop for different floor plans by title, how much space you should expect, and anything else you need to know when heading out to visit what's on the market.
Micro Apartments
You got it, these are small. Despite the fact that New York zoning laws require all New York City apartments to be at least 400 square feet, in 2013 Mayor Bloomberg created an exception for "micro apartments." These units range from 260- to 360-square-feet and feature big windows, lots of storage, kitchenettes, and balconies.
Don't think you're getting a deal though: these micro apartments still cost a pretty penny. A recent Forbes profile on these micro apartments residents paying "$107 to $121 per rental square foot" or just over $2600 a month. But, if you can be creative with the way you decorate and furnish your space, these apartments can feel cozy and homey.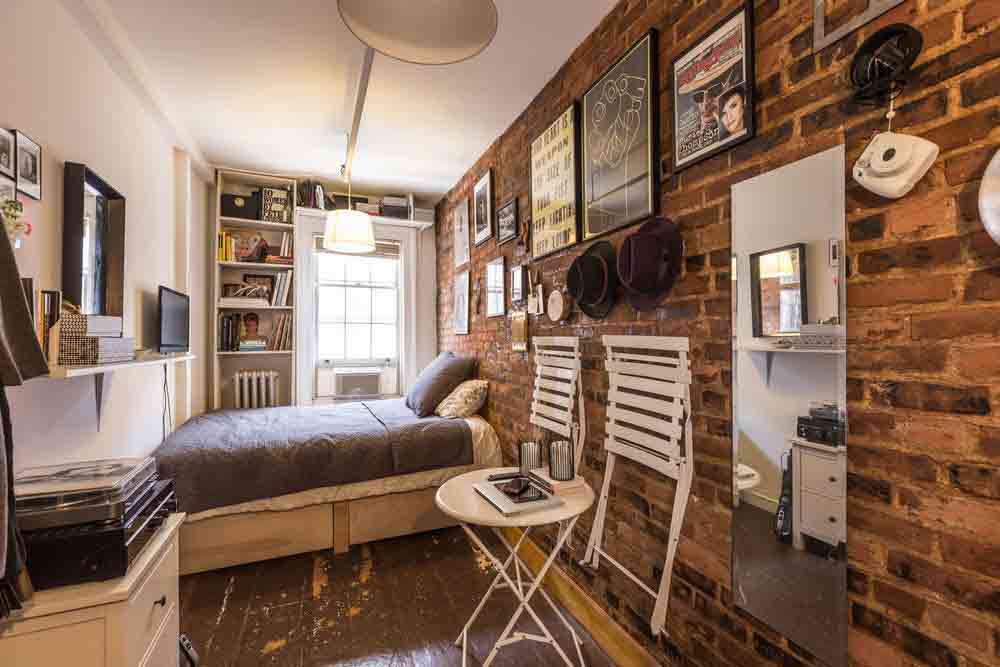 Convertible
No, not the car. The convertible is an apartment that has space large enough to be walled off and used as a dining area or bedroom. For example, a convertible two-bedroom (aka "flex 2") already has a large bedroom, plus an area that could be walled off to create a second bedroom, if you're looking to squeeze in a roommate, or a home office, for example.
Curious what this looks like in practice? Gizmodo has a neat video that shows how one apartment can transform into 8 different spaces. This is perhaps an extreme take on a convertible apartment, but much like the micro apartments, if you have a creative streak and interest in making a small space seem like a designer penthouse, these apartments are worth looking into.
Studio, Alcove Studio, or Convertible Studio
A studio is typically a one-room space with a full bathroom, and one of the more common layouts if you're just starting out in New York. By one room, we mean everything is open (think like an open-floor office plan), although sometimes the kitchen is separate from the general living space.
There are a few variations on the studio floor plan, such as the alcove studio, which has a nook where you can squeeze a bed or a desk. Pro-tip: for it to be considered an alcove studio, the "alcove space" has to be no more than 100 square feet located off the living space.
While these aren't micro apartments, they can sure feel like you're pinched for space. The New York Times recently profiled designers who specialize in moving, furnishing, and decorating client's small apartments in the city. Their tip for studio-dwellers? Get organized! Make sure your storage is compact and well designed for an apartment with minimal wall-space.
One Bedroom
It's just what it sounds like: a one bedroom features at least two distinct rooms with a door that separates the bedroom from the living area. (This is versus a studio, which is just one room with no structural partitions). When you go to check out some one-bedrooms, make sure that what the seller is showing you is a true one-bedroom. To qualify as an actual "bedroom," a room in an apartment built before 1929 must be at least eight feet wide and eight feet tall and have a window that opens to the street, a garden, or a courtyard (phew, that was a mouthful). If there's no window, that's not a one-bedroom!
Looking for a one-bedroom is a good way to test out your real-estate chops. If your broker or agent is showing you an apartment that you suspect isn't the real deal, maybe do a little research on your own. Here are some great tools and tips for running your own apartment search, according to Buzzfeed.
Junior Four and Junior One
Chances are you won't encounter the junior four very frequently, but if you do, this layout features four separate rooms: bedroom, kitchen, living room, and another small room that doesn't have the window required to be considered a bedroom (though that doesn't mean you can't make it one!). A junior one is a studio apartment with such a room. Think of the junior one as similar to a large studio or loft. ll room.
Like the one-bedroom, a junior four is one to look out for. Real estate agents love to try to pass a junior four off as a two-bedroom apartment. Because that extra room could be used as a bedroom, and many agents assume you'll use it as such, they will give you a tour of the space with that in mind. It doesn't necessarily change the price, but if you're looking for a true two-bedroom and all the natural light that implies, make sure to be up front about that during your search.
Classic Six
Ah, the classic six. These apartments are great if you can get 'em! Typically you'll find these floor plans in the nicer prewar buildings in the tony Upper East Side or Upper West Side. It's a three-bedroom apartment with a large dining room, living room, and full, separate kitchen. Most classic six layouts also include at least two bathrooms and a foyer. The classic seven is the same package, with the addition of another bedroom.
The obvious selling point is the space that comes with these apartments, but there's a lesser well-known implication that comes with the "classic six" title. When you get a classic six, your apartment typically features "oak floors>, thick walls, solid-core doors, generous room proportions and the ultimate status symbol: a working wood-burning fireplace," according to the experts at Brick Underground. Classic, indeed.
Loft
A loft apartment has its roots in the living spaces of artists who lived in SoHo in the 1960s and '70s. They would divide massive spaces that were once factory floors with partitions or moving walls. Early lofts kept it basic, with improvised kitchens, exposed pipes and beams, and industrial elevators, which you can still find in neighborhoods like SoHo, Williamsburg, Long Island City.
A typical loft is usually one large room with really high ceilings and windows. Depending on how the space has been renovated, it can be either a studio or have three bedrooms (with windows!). BTW: a loft and a studio aren't mutually exclusive terms. There are a few key differences between a loft and a studio (size, cost, function), but the layouts are very similar!
Railroad or Three-room
A railroad apartment or three-room is found in older tenement-style buildings and is named for its straight-through floor plan: one room leads into another into another. Picture the rooms aligned like the cars of a train, where each railcar is a room of the apartment. Usually, the front door opens directly into the apartment and there is no hallway.
Why would you want a railroad apartment? While it's true that these layouts offer little privacy, they do tend to be cheaper. Plus, if you're looking for an eclectic space to decorate, you can get creative with a railroad apartment: these layouts tend to have lots of space with nooks and high ceilings.
Two Bedroom and Wing Two Bedroom
We covered the one-bedroom, so you should know what we mean by two bedroom…must have two actual bedrooms with windows and everything. A wing two-bedroom has two bedrooms conjoined by a small common space, like the kitchen, but not much else. Wing two-bedrooms don't give you a lot of flexibility on space: if the common middle room is a kitchen and the other rooms are bedrooms, then your furnishing task is pretty straightforward. Many people end up getting a wing two-bedroom and using the second bedroom as a common space (effectively making it a one-bedroom apartment).
Floor-through
Basically a floor-through is an apartment that takes up the entire floor of a building or runs from wall to wall (like a railroad apartment). Check out a floor-through if you want good ventilation and natural light – these apartments typically come with windows in both the front and back of the space – but beware that they come in all shapes and sizes: just because you're getting a whole floor, doesn't mean it will be glamorous.
Looking for a floor-through in New York? Lucky you. These apartments are most plentiful in Brooklyn and other brownstone neighborhoods. Also consider Queens or Bushwick if you're attached to this particular layout!
Garden Apt
A garden apartment is located in bottom floor of a brownstone and is the fancy way of saying basement apartment. If you're being technical, however, a true garden apartment doesn't have another household above it.
These layouts come with their own entrance through a gate under the stoop to the building above. The floor plan will depend on the width of the brownstone; you can get a railroad apartment, or something with more space and privacy. What makes it better than just your average basement apartment is the access to a garden – access which is typically shared with other units in the building! Great for entertaining during the summer or if you have pets (as well as for meeting your neighbors).
Penthouse
The dream apartment, a penthouse. Everyone wants one, few can afford them: just check out this article about the 30 most expensive New York City homes for sale. You guessed it: lots of penthouse apartments.
A penthouse it technically any apartment on the top floor of the building, but more often than not you get your own special elevator button, concierge service, and great views of the city.
Duplex or Triplex
Duplexes and triplexes are apartments with multiple levels (two and three, respectively) connected by stairs. These can be a bit confusing if you've never seen a duplex in person: sometimes they have open plan designs, other times there's a garden involved.
The benefit of a duplex or triplex is that it feels like a mini home within the apartment building, with your own private inner floor (though fair warning, these second floors can be tiny). Check out these multi-level apartments if you're looking for a bit more privacy. Fun fact: these units are often found in reconfigured townhouses, prewar buildings when two units are combined and newer luxury developments.
Walk-up
Get your FitBit out. A walk-up is exactly what it sounds like. You'll be taking the stairs to get to your apartment – no elevator, no magic carpet, no sherpa to help with your groceries. Unless you're in great shape and don't mind carrying groceries up multiple flights, be wary about getting a walk up above five floors!
Did you like this blog post? Share it with a friend who might like it too:
Send email!