For some, a vacation means taking time for some rest and relaxation before going back to the hustle and bustle. For others, a vacation can serve as an inspirational channel that leads to launching new ventures in a new city. Meet Tyson, a fashion stylist and designer who after spending a month off-grid in the picturesque city of San Miguel de Allende, Mexico, decided to exchange the busy concrete jungle with Spanish colonial architecture (at least part-time), and start his own brand of luxury hats.
Given the distance between New York City and San Miguel de Allende, he made the decision to sell his furniture rather than take it with him. His new place down south would then serve as his blank canvas and as an opportunity to create a refreshed vibe for his home – and boy did he do it!
After getting a sneak peek to his new place in Mexico, we identified some style tweaks that still maintain the same luxurious vibe he enjoys in NYC, but with a rather more creative approach. Tyson's all about elegance and glamour due to his fashion background. "My home aesthetics mirrors my job's aesthetics. I dress my clients in the same way that I furnish my space. Very flamboyant but elegant at the same time", he explained to us. And this is certainly evidently in both spaces.
His place in south Williamsburg was blessed with an airy and lofty feel that would easily highlight any piece, very much the style you'd find in an apartment in this neighborhood. Its wide open space motivated him to decorate it with a mix of iron, wood, and white elements keeping the space uncluttered and elegant.
Tyson's NYC decor game included: A set of Fiberglass Dining Chairs (originally $125, sold on AptDeco for $75) and a Metallic Silver Weaved Bench (originally $2,500, listed on AptDeco for $750)
On the other hand, his new home has a Spanish colonial feel that inspired him to use darker elements with a combination of hand craft pieces. San Miguel de Allende's tradition of custom made pieces also inspired Tyson to add artistic elements, such as locally made vases and décor pieces that exalt the furniture around. The place definitely has an interesting mix that reflects Tyson's personality and his passion for this vibrant city.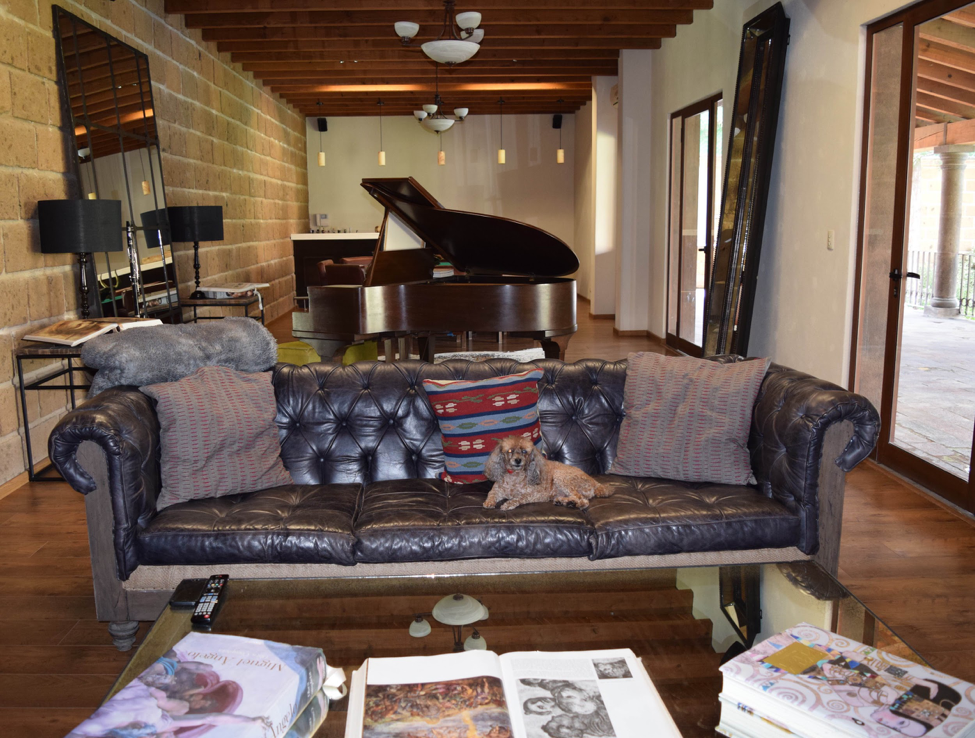 Moving to a new country can be a big challenge but he certainly managed to overcome it by creating an entirely different home and successfully selling his furniture. He mentioned that there were some pieces he wishes he could've taken with him, but that he preferred to sell them to avoid any logistical pain.
When asked about his lessons learned during the process, he mentioned: "If you have to sell furniture, make sure your items are unique. I believe that it could take you some time to sell items made by lower end brands since people can get them directly from their sites and the resale value is not great. Now, if you're furnishing a whole space, I'd recommend to measure it up and figure out how you want to design it. This comes very handy especially if you have a big space – it allows you to make a plan and get the furniture in your pace. Just be patient and get pieces that will fit the aesthetics of your space."
Discover the pieces that Tyson and the rest of our featured sellers are selling on AptDeco right now.
Did you like this blog post? Share it with a friend who might like it too:
Send email!