Kevin and Joe Rockey, a british couple living in NYC, initially rented a place in  to enjoy some quality time with their two kids in sporadic vacation days. But after having such wonderful experiences in the area, they decided to get their own place and make it their weekend home.
After looking at several options, they fell in love with this lovely cottage just two hours away from the city. A quiet and private property blessed with tons of natural light and space for the kids to play around.
Their move-in phase involved a search for the right furniture pieces that would emphasize the cottage's vibe, which is how we met them. We were so impressed by the pieces they'd found on AptDeco, we reached out to them to learn about how they managed to put all these pieces together. To our pleasant surprise, however, they invited us to come over for lunch and tour the place!
That's how we escaped NYC's rush for a day and got to meet Kevin and Joe at their cottage. Walking into their home, you could immediately see the reflection of their style, a well-balanced mix of different trends – modern, mid-century, and antique. A combination that is creatively emphasized with their personal collection of unique finds from trips to antique shops and auctions.
The first room we encountered was the living room, a perfect setting for a fun get-together with family and friends. The room is primarily accentuated by a charming fireplace that anyone can enjoy of while taking a seat in either the gray mid-century sofa or the navy armchair right across it. Additionally, they managed to add more coziness to the space with warm elements such as a cream moroccan rug and a retro race car. The low ceilings work marvelously with the open space and light coming in from all angles.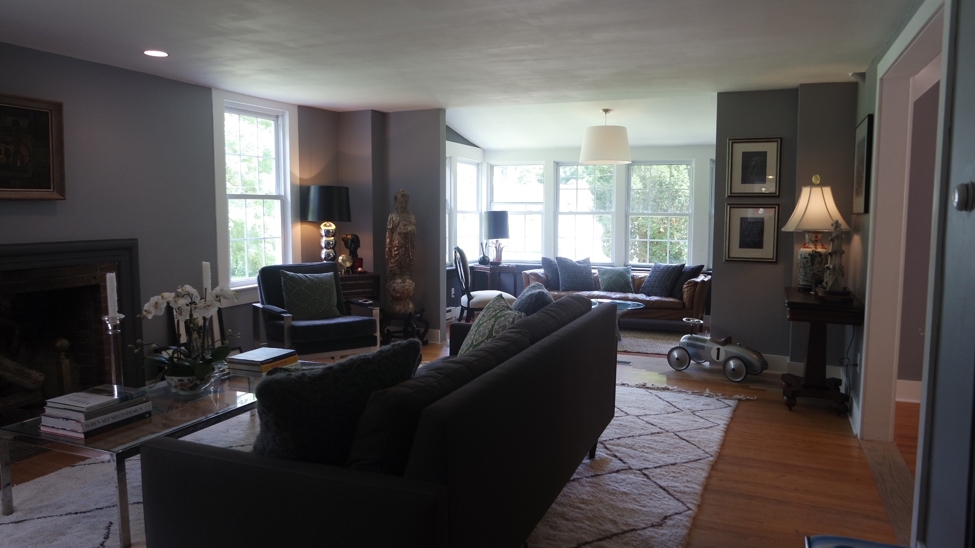 The lounge room is a perfect complement to the living room as it provides a vivid, yet collected space for entertaining. The semi-open space allows guests to chat in a different area without being completely apart. Kevin and Joe furnished the room with a beautiful leather sofa facing the living room and managed to keep things simple by surrounding a Warren Platner coffee table among other signature pieces.
The dining room is yet another great room blessed with lots of space. They decorated this room with a solid pine dining set of eight seats, an antique china cabinet and a chrome ceiling lamp that steals the show. They added a breathtaking Andrew Martin desk and use it as a console table with two matching white lamps, proving that is fun and rewarding to break the rules every now and then.
Going up the second floor, we felt in love with the boys' rooms. Both of them are full of life thanks to the addition of cheerful elements that slightly differentiate them from the rest of the home without interrupting the décor flow. However, the rooms still have neutral elements that balance the style and add a minimalistic, yet playful feel for kids.
The master bedroom on the other hand, has an elegant feeling allusive to a classy hotel room. Kevin himself has worked in the hospitality sector and his experience serves as source of inspiration for this wonderful space. The bedroom includes a dark gray tufted bed frame that is, without question, the main focus of attention. The bed is paired with two marble side tables used as nightstands that provide a sophisticated and original look.
Kevin and Joe's appreciation for style and attention to detail is just admirable. Every single room of this beautiful cottage transmits a relaxing and inviting vibe that make it a wonderful getaway any time of the year.
Did you like this blog post? Share it with a friend who might like it too:
Send email!