With MLK Day this week and the release of the movie, Selma, we're taking a celebratory approach to things home-style. After all, we are a site focused on furniture and the home. That's why we've decided to focus on one of the greatest African American influences in media, and actress in Selma, Oprah Winfrey.
Anyone that's ever heard of Oprah (and that's pretty much everybody) knows about her avid love of books. Collect enough of Oprah's suggestions and you have a library. That's why we're taking a step into one of her recently sold homes and featuring her library.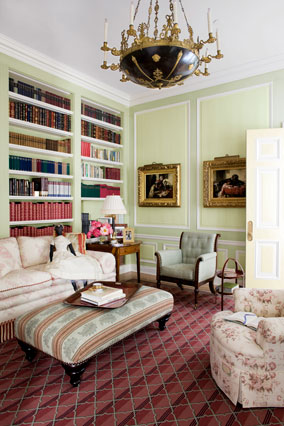 It's all about the books. In any library, the books are the main feature, of course. All the furniture pieces and accents in the library take their cue from the books.
If you're lucky enough to have a Park Slope or Harlem brownstone home (or another brownstone neighborhood) restored to its former glory, you may be one of the lucky NYC dwellers to actually have a library. The old brownstone character and high ceilings really match the space that Oprah had.
But instead of replicating her style to the tee, we've gone and given it a classically modern New York twist. Here's our vision of a NYC brownstone library.
Dark Wood Bookcase Double Width w/ Lights
Pottery Barn Slipcover Deep Sleeper Sofa
West Elm Grey and White Chevron Ottoman
Crate & Barrel Finnegan Leather Winter Pine Armchair
Vintage Upholstered Grey Wingback Armchair
Metal Wall Hanging
Limited Edition Painting by Victor Klauss
By mixing classic pieces like the bookcase and the vintage armchair with a more modern piece like the chevron ottoman, the library feels homey, yet contemporary. The neutral color combination feels warm and inviting. Perfect for a day of reading up on all your favorite books right by your library fireplace.