Kermit didn't quite have it right when he said that it's not easy being green – quite the contrary. Being green is easier than ever. Between reusing, recycling, repurposing and upcycling, there's so much you can do to lessen your impact on the environment – and some of it is fun and super easy.
Upcycling projects tend to sound a bit boring and fairly complex. So often, that's really not the case. Since we're all about making your space look prettier/fancier/more adult, we've pulled 9 upcycling projects that are both easy and will add to your home décor in a way you never thought about before.
Flowery Pushpins
Have a bulletin board in your bedroom or kitchen for reminders? Take those leftover fake flowers you have from the dollar store and hot glue the flowers to the pushpin (or magnet) ends, then place it on your board for a frillier look.
Drinking Coasters
Too many leftover subway maps from all your guests? Convert them to one-of-a-kind coasters! Grab a set of four tiles or cork coasters. Trace against the back of your map, then cut along the traced lines on the map. Brush Mod Podge – available at any crafts store – on to your map to keep from crinkling, let it dry, then brush a layer on your coaster and stick the map to it. Add more in layers on top, once dried, to seal out water. If they're tile, place felt at the bottom to keep them from scratching up your table.
Garment Bag
Need to protect a fancy dress or suit? Create your own garment bag! Make a slit in the middle of the closed end of a pillowcase you're no longer using. Apply liquid stitching adhesive and cover that area with a matching bias tape – available at sewing stores.
Luggage Nightstand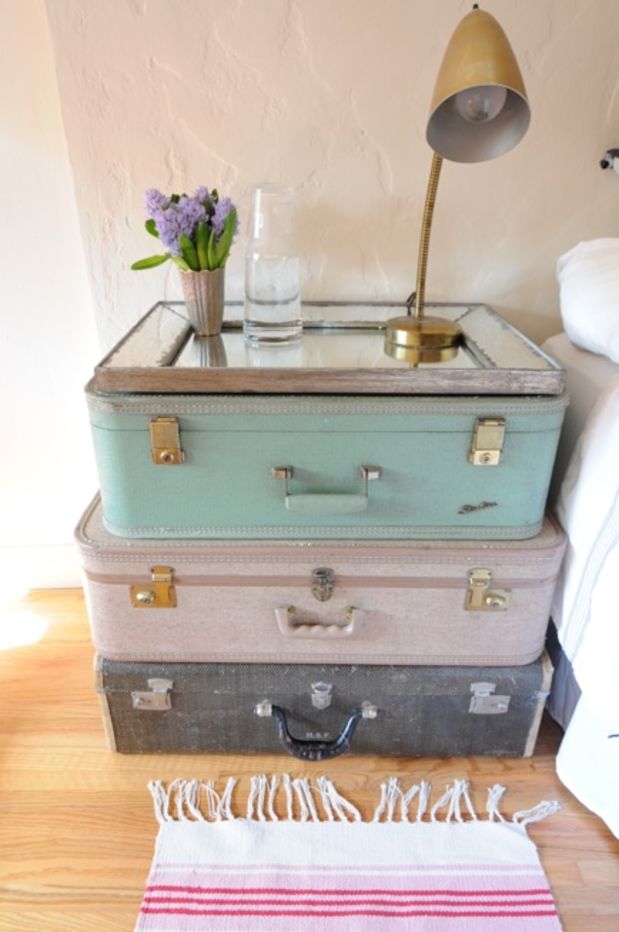 Looking for a unique spin on a nightstand? Grab several old pieces of luggage and stack them in size order by your bedside. Finish it off with a cute tray or mirror laid flat.
Ruler Table
Have a boring old table that needs something to bring it to life? This one's just a touch harder than the other projects. Add a linear ruler collage on top. First, measure the top and create a template using those measurements, layering the rulers on that template and cutting to size (you'll probably need a saw). Nail or use wood glue to attach rulers. To give it a shine, add a couple layers of polycrylic on top.
Earring Holder
Need a fun place to stash your earrings? Grab an old wooden frame and paint it with your favorite color. Take a piece of burlap and cut it a little wider and longer than the opening on the back of the frame. Using a staple gun, fold over the edges and staple the burlap to the back side, while pulling it taut (but not too taut) and you've got a place to hang your earrings.
Wine Lamp
Too many wine bottles sitting around? Remove the old label by soaking in water. Use an electric drill with diamond tipped bit to drill a small hole in the bottom of the bottle. Pick up a lamp wiring kit and slide the wiring through. Connect to the socket and you have a wonderful new lamp.
Print Vase
Want a unique vase? Take a clear leftover vase to do this project. Tear up some interesting looking paper – whether it be an older newspaper, a discarded book, music sheets or anything that catches your eye. Paint Mod Podge onto each strip and press down firmly on the paper, removing air bubbles as you go. Add Mod Podge over it to seal and you have a unique vase just for you.
Wall Shelf
Is your dresser beyond gone? Take one of the drawers and paint the color of your choice. Line the back with a cool, matching wallpaper. Nail in a painted plywood shelf parallel to the side. Now you've got a great new shelf!
Hanging Mobile
Looking for a neat mobile? Get a hole-puncher that creates the shape you want – such as a star shape. Punch shapes out form old paint chips from the hardware store. Cut strings in various lengths (between 12" and 24") and hot glue paint chips onto the string, front to back, in a patterned manner. Take a couple of skewers and hot glue them together in a cross fashion. Tie the strings filled with stars along the skewers and add a ribbon at the center to hang for a fun hanging mobile.
PopSugar / Society Bride / BHG / Cupcakes & Cashmere / Country Living
PopSugar / Lana Red Studio / How About Orange / BHG / PopSugar